A leading custom manufacturer of Subsea rubber cable glands
DP Seals works closely with some of the leading global sub-sea cable connector manufacturers to develop custom rubber cable glands, seals and mouldings. D G O'Brien, Siemens, SEACON (TE) and GE Oil & Gas are amongst those prestigious companies that rely on DP Seals expertise, knowledge and experience. These are
Our specialist subsea production unit provides our clients with 4800 sq ft of self-contained, subsea dedicated manufacturing space – and a production team, fully experienced in the demanding processes the industry requires.
Precision subsea, oil and gas component manufacturers of custom rubber gaskets, seals and mouldings
Our gaskets, seals and mouldings are often used for wet-mate, dry-mate, fibre-optic, hybrid signal, power and data cable connectors in sub-sea applications such as:
sonar
surveillance
real-time video systems
down-hole data logging equipment
oil and gas exploration
ROV
classic telecommunications networks and other oceanography applications
Rubber materials expertise built on years of experience serving the Sub-sea, Oil & Gas industry
As well as salt water, subsea connectors must deal with high pressures, low temperatures, oil and gas. A close relationship, built over some 25 years with the subsea industry, has driven our materials research into low-temperature FFKM components and rubber-to-rubber bonding. Overmoulding multi-layer components from highly conductive Carbon nanotube grades combined with highly insulative Silicones reinforces DP Seals as a world leader in this field.
Material selection is key to long-term performance and DP Seals works closely with compounders to develop exactly the right blend for your application. This includes expertise in nitriles, neoprenes and silicones through high-performance Viton Extreme and FFKM to cutting edge polymers like silicone perfluoroelastomers and nanotech rubbers.
You can be assured of the quality of our custom rubber cable glands, seals and mouldings
Starting with material blend selection, through tool development and prototype mouldings to volume delivery, DP Seals specialist subsea unit supports all stages of manufacturing.  From polymer material preparation through cleaning, inspection and quality assurance which is fully integrated into the company's rigorous AS 9100 quality regimen incorporating ISO 9001.
For our customers in the oil and gas industries, it's critically important to know they can rely on components that will function effectively in incredibly hostile environments. So to give them an unequivocal assurance of quality, performance and durability, we've long since worked to the NORSOK M-710 standard – the internationally recognised benchmark for all non-metallic seals and bearings.
In addition, although materials can be approved in five different grades, we're one of the few manufacturers to exclusively use the top two grades alone – not only guaranteeing the highest possible levels of quality but also providing a greatly reduced margin of error where performance criteria are concerned.
Originally developed by the Norwegian petroleum industry, the M-710 standard means that materials must achieve accepted criteria for both rapid gas decompression (RGD) – also known as explosive decompression (ED) – and sour gas ageing (H2S), both of which are proven indicators of long-term performance and viable life expectancy.
RGD testing establishes a material's resistance to blistering and cracking when sudden changes in pressure and temperature occur, with conformation to M-710 proving structural resilience and seal integrity in hostile subsea applications.
Sour gas testing analyses potential degradation over extended periods of time, assessing criteria such as tensile strength, swelling, elongation and hardness to ensure constant, predictable performance far beyond the likely practical life of any particular component.
With our experience and expertise in this field, we've been able to develop and supply a wide range of seals and custom-moulded components, with our customers including some of the most successful oil and gas companies in the UK, Scandinavia and further afield.
See some of our subsea press releases and case studies here: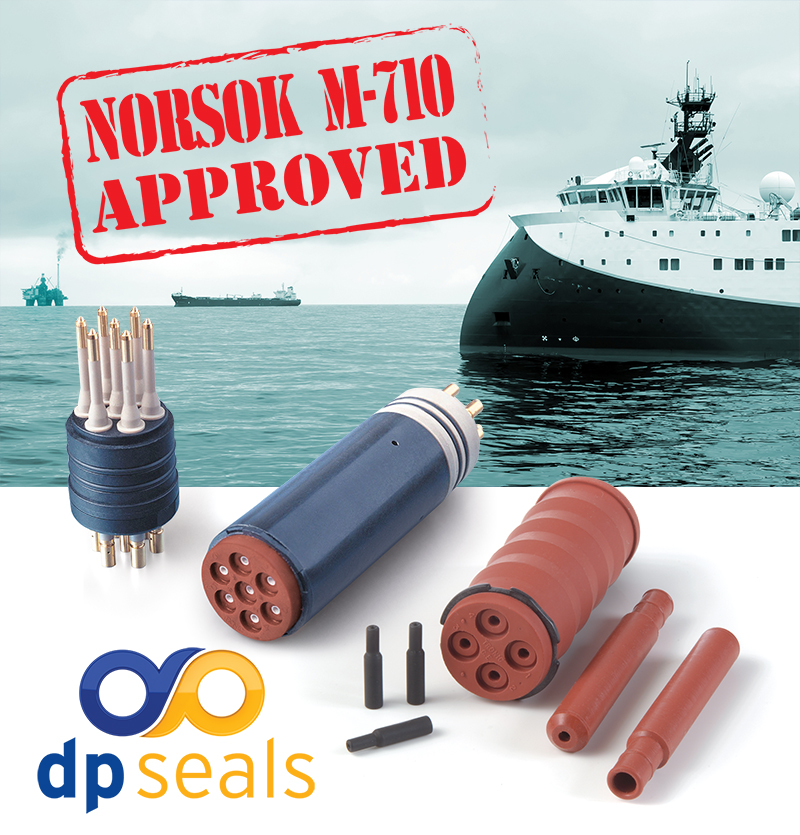 Sign-up for our newsletter dp-update