We'll develop exactly the right blend of materials for your performance requirements wherever you are in the world
At DP Seals we specialise in providing customised rubber solutions to customers seeking extreme performance without an extreme price tag. We have also mastered production of exciting new materials, putting us at the forefront of custom rubber moulding. Our 40 years rubber materials expertise enables us to develop exactly the right blend for your requirements and we stock a large variety of quality raw materials enabling us to offer fast turnaround to tight deadlines.
Access to specialist rubber materials expertise the way you want it
Custom rubber seals, gaskets and mouldings can offer many advantages over standard counterparts. And with the increasing variety of compounds available and the ability to tailor them to specific requirements engineers are continually innovating.
But it's all too easy to leave rubber material selection until late in the design cycle resulting in compromised performance or delayed market entry.  It's never too early to start considering your material selection and here are all the ways we can support you:
Testing, analysis and development to deliver reliable and consistent performance
Materials testing obviously has a fundamental part to play in ensuring we achieve the standards synonymous with our name. To this end, we've formed a strong working partnership with Artis – the Melksham based company that's widely acknowledged as a leader in its field.
At its superbly equipped laboratories, Artis is able to undertake a comprehensive range of testing, analysis and development to provide critical data relating to a huge variety of rubbers and polymers. Their dedicated team of expert scientists and technicians investigate virtually any factor that might affect the seals or mouldings we produce. This includes temperature extremes to chemical contamination, UV ageing to pressure fluctuations and everything else besides. And just to underline their commitment to quality they've recently installed six new autoclaves to carry out sour gas testing that's essential for compliance with stringent standards such as NORSOK M-710.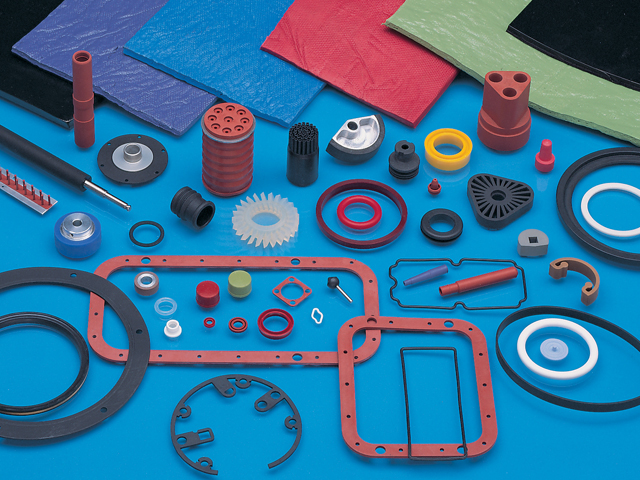 Frequently used and specialised materials
Perfluoroelastomers
DP Seals has mastered perfluoroelastomers/FFKM. As a fully-fluorinated polymer it provides an exceptional combination of temperature and chemical performance. This makes it the material of choice for fuel and lubrication seals as well as connectors operating under the harshest conditions. However, recent advances in compounding have identified some lower cost alternatives:
Viton Extreme
FKM offers high temperature performance and exceptional resistance to chemicals, mineral oils, ozone and sunlight. However, its long-term problems with high pH chemicals (bases) are solved with Viton Extreme compounds such as ETP 600S. This new fluoroelastomer offers improved tensile strength, superior compression set resistance and lower volume swell for longer seal life and wear resistance. This makes it ideal for use in fuel and lubrication seals.
Optimised HNBR
Optimised HNBR compounds now offer a performance envelope similar to FFKM at a significantly lower cost. They maintain the high temperature performance while extending low temperature applications to -50°C, expanding opportunities in Arctic-like weather conditions. Additionally, optimised HNBR's excellent resistance to abrasion is extended offering engineers a choice between HNBR and perfluoroelastomers.
Cutting-edge polymer choices
For companies at the cutting edge of technology DP Seals continuously investigates new rubber polymers through its on-going R&D programme to better understand not only the material's design performance but also its moulding characteristics.
Carboxylated Nitrile
Carboxylation further improves the abrasion resistance of Nitrile making it one tough material.
Nanotech Rubber
Teflon-coated rubber has been around for some time. However, using nano-particle Teflon as a fluoroelastomer filler shows immense promise, reducing friction with no flexibility and flaking side-effects.
Fluorosilicone
Fluorosilicone performs well at low temperatures, working down to -60°C without top-end compromise, and has increased resistance to chemicals over silicone.
HPLT: high pressure, low temperature FKM
As oil and gas exploration moves into Arctic and Antarctic regions, so the demand for hard wearing, high pressure, low temperature polymers grows. DP Seals has teamed up with Solvay Specialty Polymers to pioneer the use of new technology offering a -40°C glass temperature and improved chemical resistance profile. We are already making aerospace and subsea mouldings in this material for clients.
Sign-up for our newsletter dp-update