DP Seals specialises in manufacturing custom rubber gaskets to the highest tolerances for the harshest environments. We help companies across the world solve some of their most difficult rubber gasket challenges.
Custom rubber gaskets
All the gaskets we produce are custom designed and manufactured. Our bespoke rubber gaskets can be manufactured to any profile or shape for both low volume and high run orders. If you require an off-the-shelf part we'll happily recommend an alternative manufacturer.
Unrivalled expertise
One of our unrivalled specialities is the production of completely flash free, small aperture, thin rubber gaskets. We're experienced in using very soft grades of rubber down to as low as 10 shore hardness. In combination with our cryogenic cleaning technology and class leading quality control this ensures the custom rubber gaskets we manufacture meet the highest possible standards.
Bespoke Gasket Services
If you need we can assist with design and CAD support.
We can produce advanced rubber gaskets in a wide range of materials, colours and shore hardness. Whether you need high temperature gaskets or ones resistant to chemicals or hostile environments give us a call. We take great pride in our expertise in material selection and will help you choose the correct blend to ensure the success and durability of your products.
Test and refine your designs before expensive tooling.
Download our free guide.
One-off mouldings for prototypes or multi-cavity moulds for mass production.
Greatly reduced friction, enhanced adhesion, increased chemical resistance, controlled permeation and improved wettability.
Full SPC analysis and quick, efficient, cost-effective flash free cleaning systems.
Case Study – One of our toughest custom rubber gasket challenges!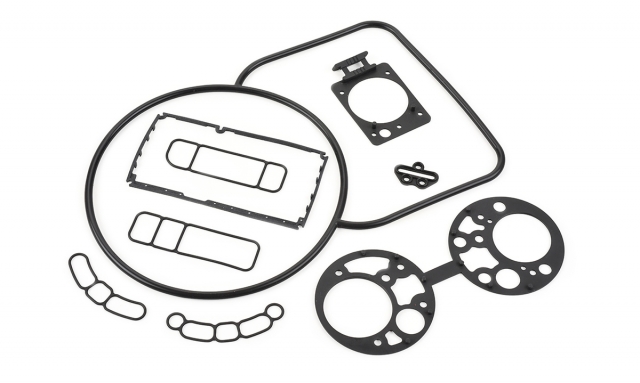 Sign-up for our newsletter dp-update
Contact us now : design – materials – quote
What our clients say
As someone who has been assessing suppliers for over 20 years it was quite apparent to me that DP Seals are technical experts and industry specialists. In meeting our 4M and QCDES standards it was their personal touch and attention to detail that helped set them apart.  Natasha Witcombe Technical Procurement Engineer, Ricoh
See more testimonials