World Leading Aerospace Seals Supplier
DP Seals is a leading aerospace seals supplier to world renowned engineering teams. This list includes Eaton, Moog, Saywell International, Flight Refuelling, Rolls Royce, BAE, Airbus, Boeing, Bombardier, Cessna, Embraer, Fokker, Eurofighter, F35, Lockheed Martin, Panavia Typhoon, Saab Gripen, AgustaWestland, Sikorsky, Leonardo and Westland Lynx. You'll be in good company with us!
A specialist Aerospace unit
Our dedicated Aerospace unit provides unrivalled experience and expertise from design, research, development and prototyping of components right through to manufacturing. Global military and civil avionics companies rely on our custom rubber aircraft seals, mouldings, glands and boots to operate in the harsh environments commonly experienced by fixed and rotary wing aircraft.
Our mouldings are produced to the highest levels of precision and quality with innovative and effective solutions. These cover a comprehensive range of applications from galley seals in the Airbus A380 to anti-vibration missile mounts on the Saab Gripen. Other aerospace gaskets and mouldings examples include:
Diaphragms
Rubber to metal bonded parts
Fire Shut-off Valve Seals
Check Valve Seals
Ball Valve Seals
Aerial Refuelling Transfer Pump Seals
Feed, Scavenge & Transfer Jet Pump Seals
Fuel Pump Seals
Aerospace O-rings
HTE Seals
We have particular expertise in rubber-to-metal bonding, producing complex components that play a vital role in fuel and hydraulic systems in both legacy and new aircraft. Specific metal parts, treatments such as anodising and conversions are all provided by our own Nadcap approved partners. This enables us to supply fully integrated rubber-metal components with complete traceability, assured quality and enhanced cost-effectiveness.
Rubber materials expertise
Developing custom aerospace rubber mouldings for demanding applications requires knowledge both of materials and environment. Working hand-in-hand with aerospace engineers DP Seals complies with the rigorous AS 9100 quality regimen in all aspects of its work. This includes providing advice on material blend selection, tool development, prototype mouldings to volume delivery of materials, ensuring that products meet specification.
Specially formulated rubber polymers can be developed to ensure high tensile strength, fuel/oil tolerance and effectiveness at low pressures and temperatures intrinsic to aerospace environments. And, to meet requests from engineering companies at the cutting edge of their technologies, we continuously investigate new compounds through our on-going R&D programme.
From nitriles, neoprenes and silicones through high-performance Viton Extreme and FFKM to cutting edge polymers like silicone perfluoroelastomer and nanotech rubbers, DP Seals uses its 40-year experience in rubber chemistry to work with compounders to develop the right blend for your application.
See a few of our Aerospace press releases and case studies here: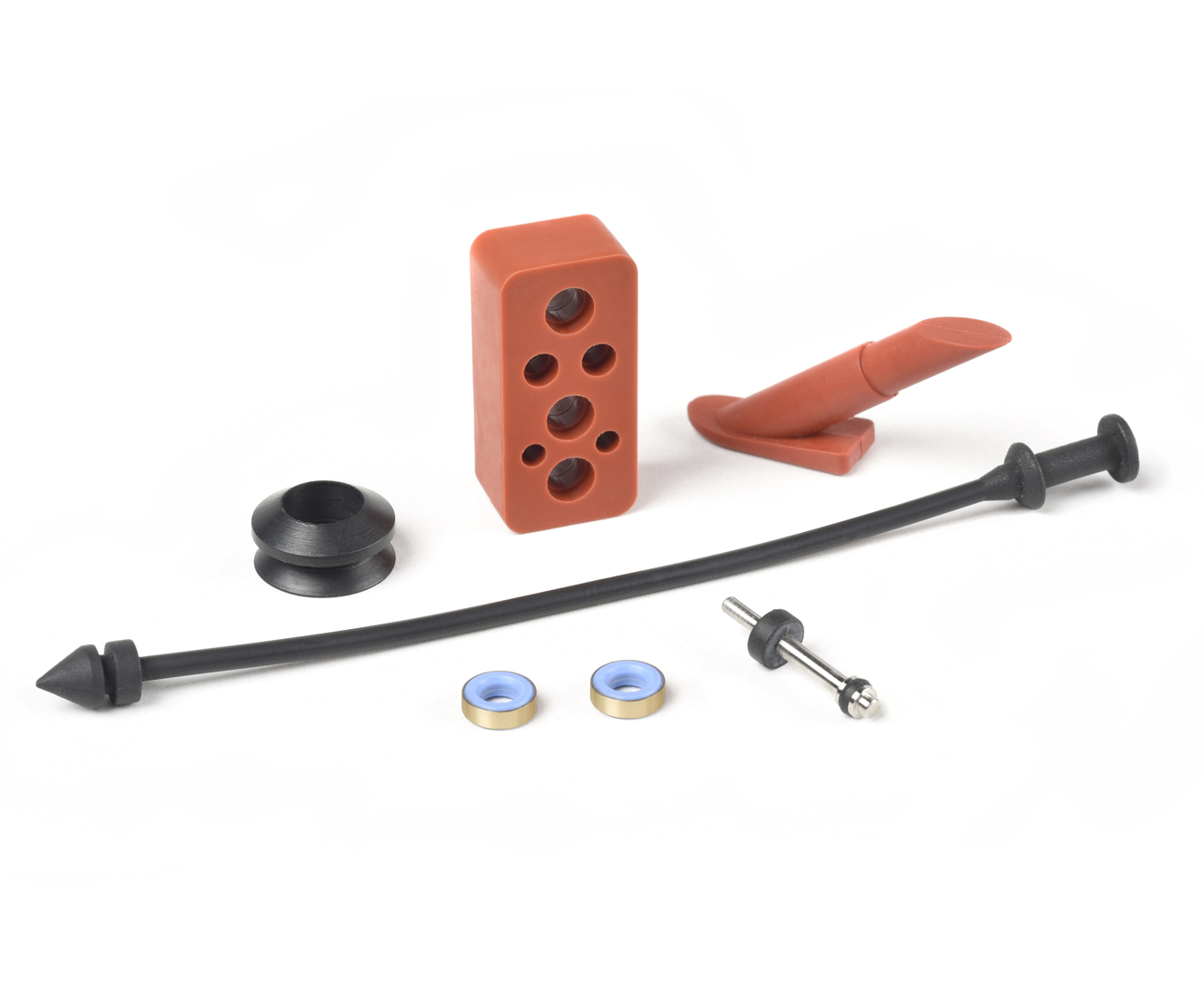 Sign-up for our newsletter dp-update
Contact us now: design – materials – quoteAerospace Brochure