High Performance Fluoroelastomer
ETP-600S fluoroelastomers combine the excellent thermal resistance of Viton® with the unique resistance to chemicals and to environments that have historically exceeded the performance of conventional fluoroelastomers, particularly highly caustic applications.
ETP-600S offers significantly improved processing and end-use properties while maintaining the excellent resistance to acids, hydrocarbons and low molecular weight esters, ketones and aldehydes, has low-temperature flexibility and is inherently resistant to base attack and volume changes in highly caustic solutions, amines and hot water. ETP-600S also has improved compression set resistance, and physical properties, all of which can improve seal performance and seal life.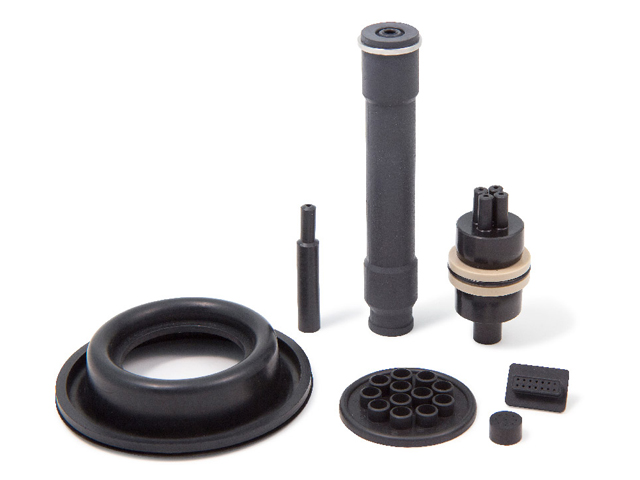 ETP-600S is suitable for environments where FKMs or FEPMs are not satisfactory, such as in automotive – including heavy duty/off-highway vehicles – aeronautical, chemical processing, oil field industries (it was originally developed to resist the sour (H2S) petroleum environments commonly found in the crude oils), as well as the pharmaceutical and food industries. For even more demanding environments it also offers a lower cost alternative to FFKM perfluoroelastomer where fluid swell is not critical.
Viton Extreme and Viton are registered trademarks of DuPont Performance Elastomers.
---
Product Specifications
Hardness: Shore A (Hint)
60-80
Tensile Strength (1000psi)
3.5+
Tear Resistance
Fair
Impact Resistance
Good
Compression Set (Method B, %)
4-10
Electrical Resistance (Ω/cm2)
2*1011
Low Temperature
-20°C/-5°F
High Temperature
200°C/400°F
Intermittent High
260°C/500°F
Ozone (protected)
Excellent
Weather and Sunlight
Excellent
Gas Permeation
Fair
Water
Excellent
Acid/Base – dilute
Excellent
Acid/Base – concentrated
Excellent
Solvent – Aliphatic
Excellent
Solvent – Aromatic
Excellent
Oils and Gasoline
Excellent
At DP Seals we pride ourselves on being able to provide specialist advice in selecting and developing exactly the right blend of materials to meet a vast range of performance requirements.
We also maintain a large quantity and variety of quality raw materials in stock, enabling us to offer fast turnaround and provide for tight deadlines.
The information provided here is only a guide to its primary characteristics and uses. The relationship between material, product performance and blend options is complex.
Contact us if you are unsure about the best material for your application on +44 (0)1202 674671 or, check out our article: "Mind the gap – a guide to custom rubber" for ideas or explore our rubber compound data-sheets.