Reducing Rubber Surface Friction
Rubber Slip and Friction
Design Engineers often come across the challenge of having to reduce the surface friction, or increase the slip, of a rubber moulding. 
Applications
Typically some of the reasons for reducing surface friction include: 
Stopping pieces sticking together 

Helping to stop compressed rubber sticking in groves and will help maintain the longevity of rubber parts in airtight seal applications

Reducing activation force 

Reducing wear 

Helping a component easily slip in place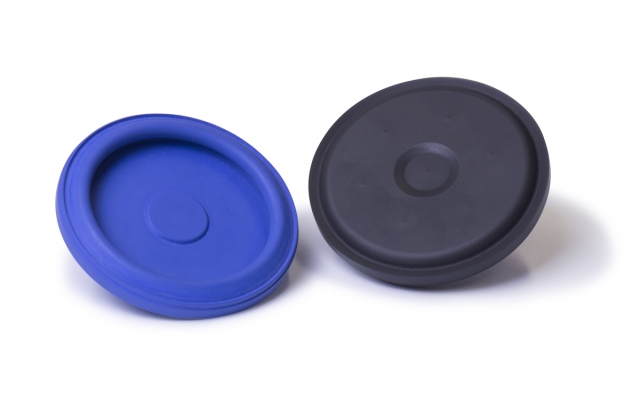 Processes
Reducing friction and increasing slip in synthetic rubbers can be achieved in a number of ways:
Coatings and additives 
Soap, graphite, PTFE and castor oil are well known lubricants that help reduce the surface friction of rubbers. Dry PTFE powders are very effective as an additive in many different rubbers and fluoroelastomers. When used as an additive or coating PTFE has the benefit of helping increase the life of rubber mouldings by reducing surface wear and improving surface properties.
Another example of this approach is self-lubricating silicone. The silicone is pre-mixed with a lubricant which, after vulcanisation, migrates out to the surface of the rubber. The silicone and amount of lubricant can be adapted to suit requirements. The surface friction of silicone can also be lowered by applying a micron thick, solvent based, curable coating. When cured, the coating is completely dry and non-migrating.
Fluorination and Chlorination
It is also possible to change the surface friction of cured moulded rubber by the process of Fluorination or Chlorination. Both processes can be carried out on any size or shape of parts that fit the treatment chamber and rely on a chemical reaction to change the rubber surface properties rather than coating the rubber itself. 
Using the Fluorination process products are exposed to a mixture of Fluorine gas and Oxygen which causes the highly reactive fluorinated gas to swap a portion of the hydrogen atoms on the rubber surface with fluorine atoms. The amount of surface change is controlled by increased pressure and time in the chamber and the mixture of Fluorine and Oxygen gas. Whilst the properties and dimensions of the rubber remain completely unchanged it is the surface energy and polarity that are influenced by the fluorine, and these effects are permanent.  
Chlorination is a similar process whereby rubber is exposed to a Chlorine solution for varying lengths of time, causing the chlorine gas to swap a portion of the hydrogen atoms on the surface with Chlorine atoms. This has the effect of reducing surface friction, improving appearance and can also  lower tensile strength and extensibility, more so on synthetic than natural rubbers.
Below you can see the friction coefficient for untreated and fluorinated EPDM parts compared with PTFE.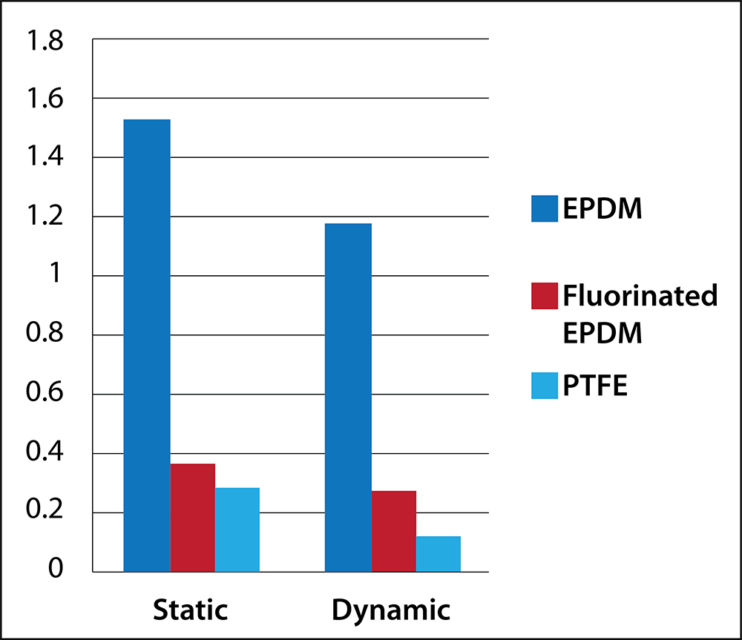 Summary
Elastomer parts can benefit enormously from these types of treatments to increase surface energy, polarity and enhance adhesive receptivity and wettability. The greatly reduced friction coefficient can reduce drag and make part assembly much easier.
The processes can be ideal for small or complex rubber components and can deliver consistent and repeatable improvements to the surface properties across all edges, angles, openings and holes.  DP Seals have vast experience in reducing surface friction and increasing slip so if you have an application which might benefit from these processes why not give us a call.