DP Seals, one of the UK's foremost suppliers of precision custom rubber seals and mouldings, has helped Waters Corporation create an award-winning family of LC/MS instruments. Accuracy and on-time delivery of the seal sets were critical to the launch dates for this new instrument technology.
LC/MS (liquid chromatography-mass spectrometry) is an analytical chemistry technique combining the physical separation capabilities of liquid chromatography with the mass analysis capabilities of mass spectrometry. Mass spectrometry uses an ion source to convert molecules into ions, an electromagnetic mass analyzer to sort ions by mass, and a detector to measure the abundance of ions present. Waters' design brief was to develop a range of universal ion sources that could be interchanged by laboratory LC/MS users without tools.
The stability of the ion source is of vital importance to the instrument's overall performance so the user interface was key. Of paramount importance were the gas and solvent seals, which needed to be 100% safe and reliable during instrument operation and at each source open or interchange. Several custom rubber mouldings were required to seal specific regions of the source; pre-determined geometry dictated the location and form of the seals involved, which were all required to operate together in harmony.
DP Seals produced prototype seals in Viton® directly from 3D CAD data supplied by Waters. The exceptional liquid and gas resistance offered by Viton was critical to in-service reliability, as was the polymer's ability to work consistently and reliably across a wide range of temperatures and in the presence of varying mechanical holding forces.
Once the prototype seals had been validated and the special polymer compound mixes agreed, DP Seals produced production tooling, meeting Waters' requirement for part accuracy and quality – and the delivery schedules to support the company's new instrument technology launch schedule.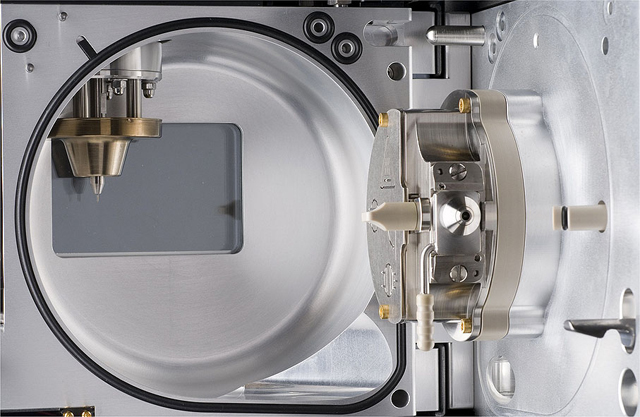 Waters launched its Xevo product line, quickly gaining two awards and a commendation: Instrument Business Outlook 2008 best product of ASMS Award; Instrument Business Outlook 2009 Gold Award for Analytical Instrument for Industrial Design; and a commendation from the prestigious Design Week Awards for the category of Industrial Product Design.
About Waters Corporation
Waters Corporation creates business advantage for laboratory-dependent organizations by delivering practical and sustainable innovation to enable significant advancements in such areas as healthcare delivery, environmental management, food safety, and water quality worldwide. It pioneers a connected portfolio of separations science, laboratory information management, mass spectrometry and thermal analysis technologies specifically designed to provide a platform for customer success. More information is available at www.waters.com.