Safety and quality critical custom rubber seals for the specialist automotive industry
DP Seals is an experienced and specialist custom gasket, seals and mouldings manufacturer for the automotive industry. Wherever safety and quality is critical DP Seals plays a leading role, from a high-spec natural rubber ball that DP Seals produce for hydraulic engine mounts to piston seals for brake calipers. More recently we have been producing engine sensor and gearbox seals for Ford.
Precision specialist automotive manufacturers of custom rubber gaskets, seals and mouldings
When it comes to unwieldy large volumes of mass manufactured parts, that's not what DP Seals are about. When it comes to specialised rubber components, manufactured to the highest tolerances in the industry today, flash free and capable of withstanding everything that high-performance motoring can throw at them – then now you're talking. Often we'll work together on design and prototyping, working with Automotive Design Engineers to develop a high-performance seal in the first production stages. Utilising our advanced knowledge of materials to produce a component that fully matches the performance and longevity required. Eventually, for mass production, these items may need to be produced elsewhere – but we'll have played the most important part in getting it right in the first place. 
Rubber materials expertise built on 40 years of experience
Developing custom rubber gaskets, seals and mouldings for the varied and innovative requirements of our many customers over 40 years has enabled us to build an unrivalled in-depth knowledge of rubber material performance. Material selection is key to helping our customers achieve their objectives and we have experience in working with From nitriles, neoprenes and silicones through high-performance Viton Extreme and FFKM to cutting edge polymers like silicone perfluoroelastomer and nanotech rubbers, DP Seals uses its 40-year experience in rubber chemistry to work with compounders to develop the right blend for your application.
Working closely with customers, we continually research and innovate to develop exactly the right blend of rubber compound for the required application resulting in enhanced longevity, improved performance and the best cost/benefit approach.
You can be assured of the quality of our custom rubber gaskets, seals and mouldings
Starting with material blend selection, through tool development and prototype mouldings to volume delivery, DP Seals specialists support all stages of manufacturing, from polymer material preparation through cleaning to inspection and quality assurance; this latter is fully integrated into the company's rigorous AS 9100 quality regimen, which incorporates ISO 9001, ISO14001 and OHSAS18001.
See some of our press releases and case studies here: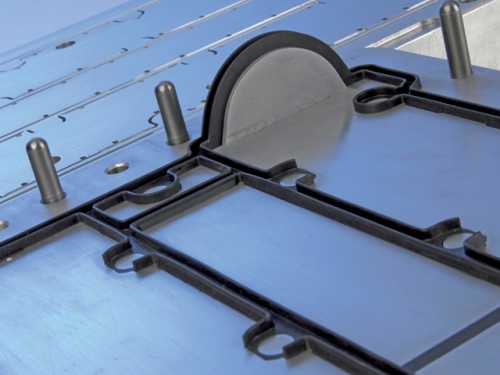 Sign-up for our newsletter dp-update